BDA Studio Legale is honored to have contributed to the tenth edition of Construction, a volume in the Getting the Deal Through series of annual reports which provides international analysis in key areas of law and policy for corporate counsel, crossborder legal practitioners and business people.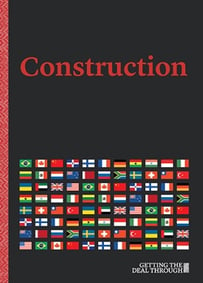 In this edition, BDA Studio Legale answer questions in relation to the construction sector in Italy, covering topics including construction contracts, bribery, labour requirements, Courts and Tribunals and payment rights under Italian Law.
Reproduced with permission from Law Business Research Ltd. This article was first published in Getting the Deal Through: Construction 2017, (published in July 2016; contributing editors: Robert S Peckar and Michael S Zicherman, Peckar & Abramson PC) For further information please visit www.gettingthedealthrough.com.
Questo articolo è stato scritto a mero scopo informativo e non può essere inteso in nessun modo quale parere legale.